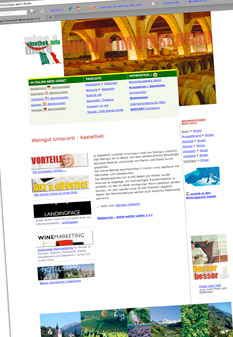 for all wine growers, medium sized wine producers and distillers

bears the total costs for company- and offer description, along with search engine optimization in

German (see detailed information).

Wine-grower cooperatives and local wine-producing firms / wine bars receive at especially favourable terms (see detailed information).




is financed by placing advertisments, PR- and promotion-campaigns of hotels, travel organizations and companies, offering accessories for wine, viticultural techniques or wine-accessories.





Due to the high potential of

we allow to ensure for a small fee, that your individual offers (wines, sparkling wine and noble brandies from United Kingdom) are to be found quickly and more easily on all important search engines in

german-speaking areas!

This is especially attractive for small sized and medium-sized enterprises, because commitment is rather reserved for enterprises with large budget.






is a alive, intersting information platform, which inspires and binds its readers with local, culinary tips, product presentation and expertise.

In detail it is possible to elaborate on types of wine and grape variety, selectively from A-Z. Nearly every entry leads to one or various producers. Read more >

Wine connoisseurs are pleased to receive more contacts and the possibility, to order directly (also wine tastings).




We prefer not to use flash animated "cinema for mice optics" and instead we rather try to create a journalistically prepared environment.

In this ambience information and advertisment of companies, promoting wine accessories (glasses, storage systems, coolers, design products, literature, dvds, wine guides, as well as touristic offers) are noticed successfully!


Particularly important for small sized wine producers and wine shippers >